Connecting your AOL email account with your Outlook account might benefit you to organize your private and business emails in one place while keeping them separate and organized if your professional life necessitates frequent expeditions. Fortunately, creating a new email account in Outlook is a quick and painless process just like its step up and third-party password creation. For better security and configuration, Two-factor authentication is used for AOL accounts. You'll need an app password to add AOL email to Outlook. This will not be the same as your regular password. You may set up an AOL email account in Outlook after generating the app password. You may follow the given steps for a better understanding.
How to Create a Third-party App Password?
Follow the given simple steps for generating a third-party app password:
Step 1: Go to mail.aol.com and log in.
Step 2: Go to your AOL Profile section and select the Account Info option
Step 3: From the left navigation bar, click on Account Security and click on Generate App Password
Step 4: From the App password popup screen, select the Outlook Desktop and click on the Generate button.
Step 5: Note or copy the app's created password.
How to Set Up an AOL Account in Outlook 2019, 2016, and Microsoft 365?
Given below are the steps to set up an AOL email in Outlook 2019, 2016, and Microsoft 365:
Step 1: Open Outlook and go to the File tab.
Step 2: Click the Add Account button after selecting Info.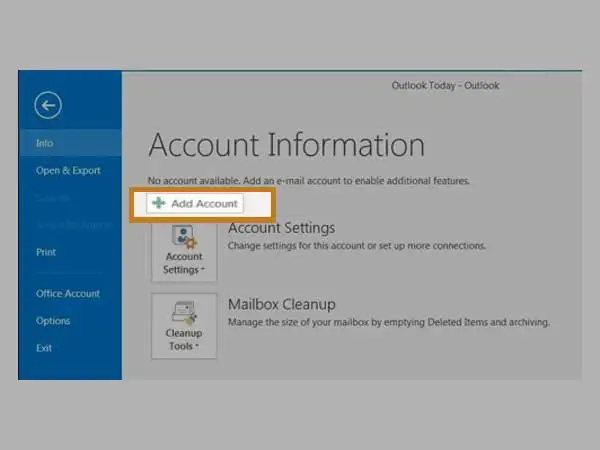 Step 3: Select the Connect button after entering your AOL email address.
Step 4: Click the Connect button after entering your AOL App Password.
Step 5: Click the Done button after selecting IMAP.
Step 6: Outlook will download the messages to your account after the verification process is completed.
Now that you are well aware of how to generate a third-party password and how to set up an AOL email in Outlook 2019, 2016, and Microsoft 365, it is important to know why we need to access AOL Email to Outlook and how an AOL email can be added to Outlook 2010 and 2013.
Why is it Necessary to Connect our AOL Account to Outlook?
Users typically connect their AOL Email account to Outlook for the following issues. You should read each of the following arguments carefully.
If your company went from AOL to Outlook, you'd have to export your data from AOL to Outlook as well.
To take advantage of MS Outlook's additional benefits and features.
To view your emails offline and avoid AOL downtime.
How to Add an AOL Account to Outlook 2010 and 2013?
Given below are the steps to add an AOL email to Outlook 2010 and 2013:
Step 1: Activate Outlook and Select the File tab.
Step 2: Go to the Info section and select the Add Account option.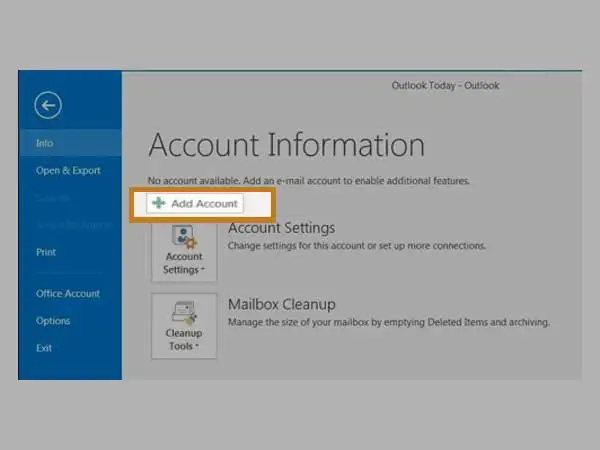 Step 3: Select Manual configuration or an extra server type, then click Next.
Step 4: Click the Next button after selecting POP or IMAP.
Step 5: Enter your name and email address in User Information.
Step 6: Select IMAP as the account type, imap.aol.com as the Incoming Mail Server, and smtp.aol.com as the Outgoing Mail Server in Server Information (SMTP).
Step 7: Enter your AOL email address and password in the Logon Information section, then click the More Settings button.
Step 8: Check the box next to My Outgoing Server (SMTP) that requires authentication on the Outgoing Servers page.
Step 9: Select SSL in the Advanced tab and enter 993 as the incoming server (IMAP). Select an encrypted connection from the list below.
Step 10: In the Outgoing Server (SMTP) field, type 465 and select SSL. Select an encrypted connection from the list below.
Step 11: Click the Next button after clicking the OK button.
Step 12: Close the popup menu and click the Finish button when you're finished.
Furthermore, if you prefer a different interface, you can download a copy of your AOL Mail email or send and receive emails using a third-party email client. When it comes to setting up a third-party email app, you have two options: POP or IMAP.
POP transfers emails from your AOL account (mail.aol.com) to the app. This implies that if you remove an email from your account after it has been downloaded, the app will keep the downloaded copy. Furthermore, POP only downloads emails from the Inbox (not customizable folders), so you'd have to move emails from current folders to the Inbox to download all of your emails. IMAP, on the other hand, keeps the app and your account in sync so that the information in both places is the same. This implies that whatever you do with messages or folders in your mail.aol.com account will be replicated in the app (and vice versa). The POP and IMAP server settings for AOL Mail are listed here, along with links to typical email program setup instructions. If you need assistance customizing your app, contact the developer.
Professional Method to Step up an AOL Account
DRS AOL Backup Tool is a simple and effective way to export your AOL emails to Outlook and a variety of other email services. You can also save your emails in a variety of file formats. This application has a user interface that is both straightforward and interactive, making it easy to use for both experts and beginners.
What if AOL Emails Become Inaccessible Due to PST File Corruption?
Because of PST file damage, AOL emails are sometimes inaccessible in Outlook. In this situation, you must first fix the PST files. Kernel for Outlook PST Repair is the best tool for repairing corrupt or damaged Outlook PST files. It guarantees data recovery, so you'll never lose your data stored in the Outlook PST file. File repair, recovery, and cross-platform email migration are just some of the options available. It also allows the user to recover permanently deleted emails, whether the deletion was done on purpose or by accident. The app scans and repairs faulty PST files using powerful scanning techniques. Furthermore, this application comes with a slew of additional capabilities, including the ability to recover deleted attachments, save recovered email items in MBOX, DBX, EML, MSG, and PDF file formats, as well as Smart Filtering choices and zero data loss. There are also several manual techniques for converting AOL email to Office 365, but the Outlook PST application makes the entire procedure a breeze.
In short, this article has discussed the best ways to add AOL email to Outlook. Users are known to have some technical understanding in order to employ the manual way. You can also use a third-party professional program to complete this stage and save a significant amount of time. We've also taught you why to connect AOL to Outlook and what is the professional method for the same. The procedure is straightforward and takes only a few minutes to finish. For every method, all you need is an active AOL account and Outlook on your PC to get started. Follow the steps to access your AOL emails in Outlook once you've set up both of these apps. Assume the account is unreachable because the PST file is corrupted. Kernel Outlook PST program can then recover the entire account without compromising the integrity of the AOL account's mailbox. The software is simple to use and produces results quickly. You can try it out right now to see how it goes.